Network demo kit for schools and exhibitions.
Networks are fun. But it is difficult to explain and show it in an interesting way to students. If one booth in a eduction exhibition has a welder robot, it takes something extra to make the network router setup in the neighbor booth interesting. So when we got the question if we could make a interesting lab setup for an education fair, we made a fun kit we call "Avbrottaren".

The idea is to show a small network on a lab table interesting to the visitor to experiment with.
Avbrottaren works like this:
The VOIP1 router to the left samples music from a MP3 player (or the visitors cell phone), converts it to VOIP packets send sends it via two switches to the VOIP2 router on the right side, where it is played in the speakers or on the VOIP phone.
The two switches are connected together with two links: One 1000BaseSX fiber link and one 100Mb 100BaseT Ethernet.
The Spanning Tree protocol makes sure only one link is active. The Gig fiber link will be primary link since Spanning Tree prioritizes links with higher bandwidth.
The visitor unplugs the fiber cable to simulate a cable failure. Music stops.
After a few seconds, Spanning Tree has activated the backup link and the music comes back.
Instead of playing the music in the speakers, the visitor may use the IP phone and call to the MP3 player, and active the phone's internal speaker. There is also an analog phone so two visitors can call each other and talk over the network.
Instead of having a redundant L2 center net, one can demonstrate IP network L3 redundancy works using routers and protocols like RIP, OSPF and BGP. Contact us if you would be interested in this option.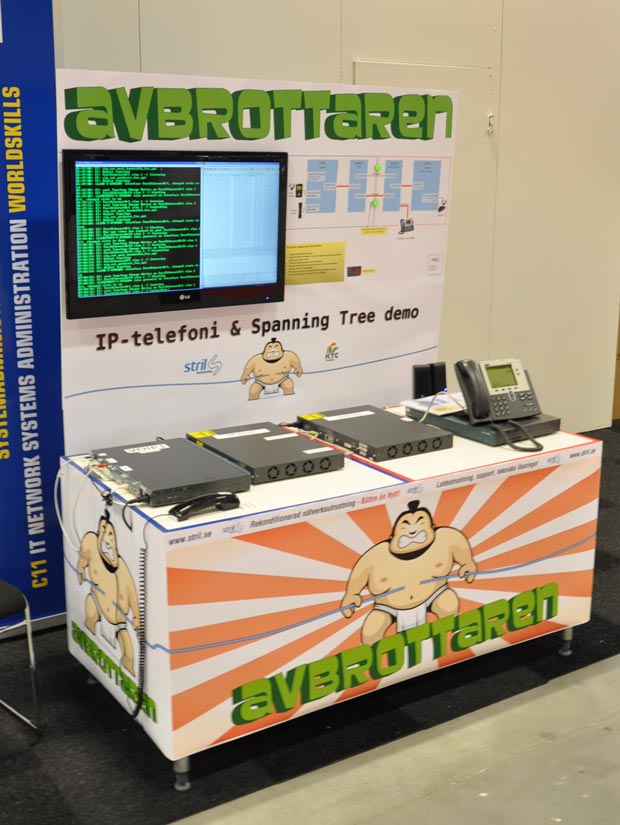 Contents of the demo kit:

2
CISCO2611XM with two built in 10/100 ports.
Memory: 48MB flash. 128MB RAM

2
Cisco Catalyst 3524 switches
One switch has Power over Ethernet support.
1
Cisco Voice over IP phone CP-7940
1
Analog phone
1
Mp3 player and speaker
Cable kit:

Power cables for all devices.
Sound cables for connecting the MP3 player and speaker to the router.
Ethernet patch cables
Console cables
2 1000BaseSX GBICs and fiber cable
Power sockets mounted under the table with a power switch to power on/off all equipment.

Exhibition materials:

Table 150x75cm prelabled.
We hare happy to help if you want your custom labels, banners, logos and signs.
Paper display screen with a network diagram and instructions to visitors.
Extra label set for marking the table and parts.
PDF document with the network diagram and visitor instructions

Equipment for showing console output and Wireshark packet sniffing:


32 inch monitor.
Computer with 4 RS232 serial ports.
HDMI cable
Wireless keyboard and mouse.

Documentation and configurations.
5 year hardware warranty.
5 year free support.
If you are interested in purchasing this kit, please contact Magnus Larsson [magnus at stril.com] +46 8 584 00 110
Questions & Answers
What does the name Avbrottaren mean?
Avbrottaren is Swedish and means sort of "the wrestler of outages". If IKEA can sell products with Swedish names, so can we :)
Does it take much knowledge to setup and demonstrate the kit?
No, it's all plug and play.
Will this kit be interesting also for people with experience in networks?
Yes, it is a nice VOIP lab kit. And with a computer and console cable you can show more in detail what's going on with the switches such as displaying debug outputs, show Spanning Tree states etc. And you can experiment with different VOIP compression standards to hear the difference in sound quality.