ISDN E1 BRI and PRI Simulators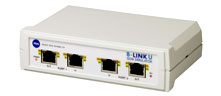 We are distributors of Packet Data Systems ISDN simulators. The devices are small telephony switches, forwarding call between its ISDN ports. Perfect for making lab connections between ISDN devices, or for testing ISDN equipment without using a full PBX.
Features:
Plug & Play operation with predefined phone numbers for each port.
User friendly Windows software for management and configuration.
Provides a reliable connection with no call charges every time that you need it.
Allows simple testing and demonstration of ISDN customer premises equipment.
Protocol trace facility
Part number
Description
Price SEK
B-LinkU
Two port basic rate ISDN S/T and U network simulator
4.250kr
B-Link4
Four port basic rate ISDN S/T network simulator
7.500kr
Simline6
6 port Basic Rate ISDN Network Simulator
21.400kr
E1 PRI Port
Primary Rate Port (E1) port for Simline6
1.400kr
VAT (MOMS) of 25% will be added to the above pricing.
Do you need to test analog (POTS) phone/modem/fax connections through an ISDN test network or to another phone/modem? We can offer low cost refurbished Cisco routers with analog phone ports and an ISDN interface. The router will work as an advanced analog phone to ISDN converter together with the ISDN simulator. Contact us for more details!